Hello and welcome to the character creation! First off, you are going to need to generate a character sheet. How do you do that? Simply go on your Profile>>>Character Sheet and press the generate button. Once that is done, keep it in another tab so you can fill it as we go throught this tutorial.
Your character is an adventurer: Someone who dropped everything she or he had in order to start fresh, whether or not they had the choice to do it. Some will have simple reasons, while others have far more complicated reasons. Nonetheless, all of your characters decided to show up at their village's billboards, pick up one of the papers and hope for the best. Is the path ahead covered in fame and fortune? Or is Lady Death waiting for you at the end? There's only one way to find out!
Picking your Race
First off, you are going to need to pick a race. All races can be found here:
Races
Your race is probably the most important part of your character creation. It will define your base stats and how you roleplay in Scavenger's universe. In this world, some races you might've heard before may be completely different, so make sure you at least get a good idea of how they look before telling me that a certain race should look like that.
If there isn't a race of your choice, you can try and create your own! Just create a new topic with the race's backstory (which must fit Scavenger's universe), its stats, bonuses and debuffs. The more balanced the race is, the more likely it will be to become a playable race. If the race is judged too overpowered or too similar to an existing race, it will be refused. Please use the existing races' templates to create your own.
Next up is, well, your name! Who are you? What do you look like? Tell us a bit about yourself so players can have a mental image of the guy they are speaking to. Even better: if you have any skills related to arts, you can even draw your own character!
Now, here's what all the stats mean. We will try to create a Human Fighter for all the examples that I'm going to mention.
Stats and Modifiers
Her'es a quick summary of what all of the stats do, using tomatoes as examples:
Hit Points: Your ability to take either a little or a lot of tomatoes to the face before passing out.
Strength: Your ability to crush a tomato.
Dexterity: Your ability to throw/dodge a tomato.
Constitution: Your ability to eat a rotten tomato and not get sick.
Intelligence: Your ability to know that a tomato is a fruit.
Instinct: Your ability to know that you do not put a tomato in a fruit salad.
Charisma: Your ability to sell a tomato-based fruit salad.
The higher your stat is, the better you are at doing the things mentioned above. 10 is the base value. 8 would be equal to any average human being in our current world, while 14 would be considered athlete/professional level.
The modifiers are the values you are going to be using for all the calculations and checks. More about this here:
Rules of Roleplaying
. You calculate your modifier by simply removing 10 from your stat, then dividing it by 2 and round it down. For example, if your Strength stat is 12, you would subtract 10 (result 2) and then divide it by 2 (result +1). Modifiers can also be negative. In our case, all of our modifiers are equal to 0.
At level one, you get 4 extra stat points than you can put wherever you want. And since we are human, we get a bonus one. So I put my points in and now I have:
Hit Points: d10
Strength: 12
Dexterity: 13
Constitution: 10
Intelligence: 10
Instinct: 10
Charisma: 10
Hit Points:
The d10 means that your race gets a 10 faced die's worth of HP each time it gains a level. The only tricky part to this, is that your first Hit Die is full (full means the maximum value of a die), so in this case, it's 10. Furthermore, each additional Hit Die needs to be rolled, but you cannot roll less than half the value of your hit dice. So at level 2, a Human's minimum Hit Point value is gonna be 15. The last thing worth mentioning about HP is that you also add your Constitution's modifier to each of your Hit Dice. In our case, that puts the total of HP to a value of 10. If a character ever reaches 0 HP, they immediately fall unconscious.  If the character falls to -10 HP, you are bleeding out and need some serious healing. You start losing 1 HP every 12 seconds. If the character hits -30 HP, that character is dead.
XP
This is what you need to fill in order to level up. normally, at level 1 you need 1000 xp in order to reach level 2. Here is a chart for all the levels up to 20 for how much xp you need to get in order to level up:
2:1000
3:2000
4:3000
5:4000
6:5000
7:6000
8:7000
9:8000
10:9000
11:10000
12:11000
13:12000
14:13000
15:14000
16:15000
17:16000
18:17000
19:18000
20:19000
The amount of xp you gain is proportionate to the difficulty of the quest/fight/feat that you just did. Killing a Giant Rat as a lvl 1 character can be quite the challenge, but killing the same rat at level 3 is suddenly way easier and won't give the same amount of experience it used to. Only Administrators can give you experience points (as well as game masters but they have to contact an admin as well).
Dodge, Armor and Armor Class
Your dodge and armor stats are going to be your most precious allies. Each time someone wants to make an attack roll against you, they have to bypass your dodge and armor in order to hit you. Your dodge is affected by your Dexterity, while your armor is affected by, well, the armor that you wear. You add your Dexterity modifier to your dodge, which is already by default, 10. In the case of my character, his dodge is 11. Armor and clothes will provide some extra protection and sponge some damage. The rest of the attack roll that by passed your dodge has to be higher than your armor value, which is by default 0. This is where the Armor Class comes in handy. Instead of having to calculate everything, just compare the total Attack Roll VS. your Armor class, which combines both your Armor and Dodge. If it's higher, you get damaged. If it's lower, you do not take any damage. If it's even, you do not take damage.
Example:
My Human fighter is up against a Giant Rat, and the Rat bites my character. Lets say the Rat rolls a 9 on its attack roll. My human fighter only has a cloth shirt and some cloth pants, which provides him a total of 2/3 Armor. Rounded down, he has a bonus of +0 to his armor. Luckily, his dodge is at 11, so he easily avoids the bite and takes no damage. The Giant Rat bites again! This time, it rolls an impressive 15. We have 11 dodge, so we reduce his attack roll to 4. Sadly, we don't have enough armor to back us up, so the Rat damages us. Damage will always be shown after the attack roll, and will most likely look like this:
Attack Roll
Gorlok carried out 1 launched of one d20 (Image not informed.) :
19
Damage Roll
Gorlok carried out 1 launched of one d2 (Image not informed.) :
1
More info on rolls here:
Rules of Roleplaying
You then remove the damage done from your Hit Points.
Ability Points and Movement Points
These are mainly for combat purposes. The Action Points determine how many actions you can take during your turn in a fight, while the Movement Points tell you how much space you can travel in one turn. Check
Rules of Roleplaying
for more information. These points are given to you depending on which class you took.
Carrying capacity
There's a limit to what you character can carry on him, and if you ever reach the Heavy load threshold, you lose any of your dexterity modifier and walk/run at half the speed. If you ever have too much stuff on you, you might want to deposit some at a bank or, better, at your home. Here's a table that shows you how much it takes for you to get to heavy load. If you carry more than your heavy load, you simply cannot move or do any action other than putting stuff down to unload yourself.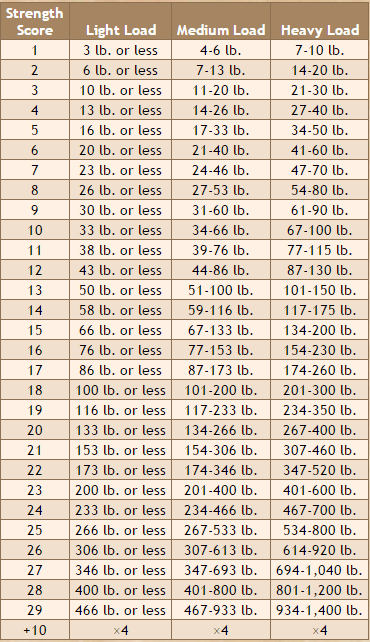 Picking your Class
A class is what determines your roll in a team. Whether you are a dual-wielding axe warrior, a spellcaster, or a sneaky assassin, the possibilities are endless. The presented templates shown here:
Classes and templates
are mainly guidelines to creating your own original class. I highly suggest picking one we have already created, and if you want to make your own, try to use powers/skills that already exist, or base your ratios on the ones we have created for you. If you create a class, you will need to include everything we have in the templates. Mods and admins will help you balance out your class. Lastly, if you create your own class, you will have to categorize it under the 3 basic templates: Fighter, Mage or Thug, whichever is the closest.
If you create a new class, make a post in the Characters section and make a complete guide or else it will get refused.
Our human, of course, picked the class Fighter, which means he now has access to Strong Swing and Focused Shot. The maximum amount of powers of each type (Free, Standard, and Daily) you can have is 4. A free spell/power can be used at any given time. A standard power can only be used once per fight/every hour. And a daily spell/power can only be used, well, once per day. You can only have one Passive going on at each given time. (Note: A bonus isn't a passive, its more of a permanent effect, while a passive will be triggered by something.)
Weapon and Armor Proficiency
This determines which weapons and armor your class can use without getting a penalty on attack rolls. If a character is not proficient with the weapon he/she is using, they take a -2 penalty on all attack rolls. Same goes with armor, and the debuff stacks. To become proficient with a weapon, you must either: Train and use it for a week, get the right feat or have some magic item allowing you to equip certain armor/weapon.
Attack Roll Bonus per Level
This is a value that you add to your attack rolls. That's it.
Action Points and Movement Points
These are the points used solely in combat. Your class determines how many you have to start with. If you decide to multiclass, you take the class with the fewest base points.
Class Powers
These are what you would normally call your abilities or spells. This is what truly shapes your character and makes into what you've always wanted. The maximum number of powesr you can have is 4 of each type, which will be described in a few moments. Class powers are easily the most entertaining part of creating your class, but you have to make sure that everything is properly balanced, which
can
be a pain.
Free powers: Powers you can use as many times as you want, as long as you meet the conditions.
Standard powers: Powers you can only use once during every fight or per each in-game hour. Think of it as an hour-long cooldown that refreshes if you enter a different fight.
Daily Powers: Powers that are usually incredibly strong that you can only use once per day. These powers are not to be messed with and should be used with caution.
Passive: A Passive is something that will trigger under certain circumstances. The difference between a Passive and a Bonus is that the Bonus is always active, while the Passive needs to be triggered by something. You can only have one Passive active at a time.
That's it for class.
Jobs and Feats
As your character levels up, they will obtain and develop certain skills. They will obtain what we call Feats. At level 1, you get one free Feat to add to your character customization. Jobs are obtained by spending a feat point in any job of your liking. Your job will allow you to create certain items, fix other things, and make money passively. If you do not wish to have any particular job, you can just fill the space with whatever you like (Something like adventurer, mercenary or roamer).
You can check
Here
the list of all the current Feats and jobs available.
Starting Packages
Of course, your character didn't start his adventure completely naked! Depending on their backstory, your character starts with a starting package that fits them the most.
City Package: You used to live in the big cities and were an average citizen
-10 Silver Pieces
-Normal Shirt (1/3 armor)
-Normal Pants (1/3 armor)
-Normal Boots (1/3 armor)
-Bronze dagger (1 damage)
-Backpack
-Small tent
-Bedroll
City Package: You used to live in the big cities and were an average citizen.
-10 Silver pieces
-Normal Shirt (1/3 armor)
-Normal pants (1/3 armor)
-Normal boots (1/3 armor)
-Bronze dagger (1 damage)
-Backpack
-Small tent
-Bedroll
Nomadic Package: You constantly move and survive in the wilderness.
-5 oz. gold dust
-Leather Shirt (2/3 armor)
-Leather Pants (2/3 armor)
-Leather Boots (2/3 armor)
-Stone hammer (2 damage)
-Homemade pack
-Bedroll
-Flint and Steel
Hunter Kit: You follow your prey and attack from a distance.
-10 Silver pieces
-Normal Shirt (1/3 armor)
-Normal Pants (1/3 armor)
-Normal Boots (1/3 armor)
-Bronze Dagger (1 damage)
-Shortbow (1 damage + Arrow modifier)
-Leather Quiver (holds up to 100 arrows)
-Arrow (x50) (½ damage)
-Backpack
-Small tent
-Bedroll
Rich Kit: You come from a rich family and are given many essentials.
-10 Gold
-Chainmail (2 armor)
-Chainmail Greaves (2 armor)
-Reinforced Leather Boots (1 armor)
Magic Package: Basic magical gear you have been given.
-10 Silver pieces
-Normal Shirt (1/3 armor)
-Normal Pants (1/3 armor)
-Normal Boots (1/3 armor)
-Wooden Staff (1 damage)
-Backpack
-Small tent
-Bedroll
Thug Package: You live off of stealing things from others and prefer stealth over combat supremacy.
-20 Silver pieces
-Normal Shirt (1/3 armor)
-Normal Pants (1/3 armor)
-Normal Boots (1/3 armor)
-Bronze dagger (1 damage)
-Backpack
-Bedroll
-Moderate Lockpick (x5)
Adventurer Kit: You started an adventure fresh and want to experience the well-loved novels yourself.
-15 Silver pieces
-Leather Chainmail (1 armor)
-Leather Chainmail Greaves (1 armor)
-Reinforced Leather Boots (1 armor)
-Bronze Shortsword (1 damage)
-Backpack
-Small tent
-Bedroll
Looter Kit: You're in it for the money and you want it fast.
-30 Silver pieces
-Normal Shirt (1/3 armor)
-Normal Pants (1/3 armor)
-Reinforced Leather Boots (1 armor)
-Throwing Knife (x20) (2 damage)
-Large backpack
-Bedroll
-Moderate Lockpick (x10)
-Smokebomb (x15)
-Torch (x20)
Leveling Up
When you level up, many things happen. Here's a table with everything that you should obtain when you reach the next level.

You should also check what new stuff you get from your class. You obviously get a new Hit Die that you have to roll (Remember: Level 1 hit dice are full, while the others cannot be less than half. Don't forget to add in your Constitution modifier as well.). Contact an admin when you are ready to level up (You do not have to level up immediately after you reach the required XP. Any extra xp will be kept for your next level.).
Background/Bio
Finally, the last step is to tell us more about your character. Who are they? What do they looks like? What traumatizing childhood did they have? The more awesome your background is, the happier the admins will be and the easier it will be to get your character involved into the mighty universe that Scavenger is.
With this done, I wish you the best of luck at creating the perfect character! If you find anything wrong with this guide, please message me about it (any grammatical errors or wrong numbers.)
Last edited by Gorlok on Sun 13 Sep - 18:13; edited 5 times in total (Reason for editing : Grammatical Fixes and Spelling Fixes)
Important point to mention: You have to create a topic with all your informations if you ever create something new so it can get verified by Moderators.
Some things were updated! I suggest going over the Armor and dodge section :3.

---
Permissions in this forum:
You
cannot
reply to topics in this forum